Scott Hanson Earned His Paycheck Calling a QuadBox Full of Late Game Action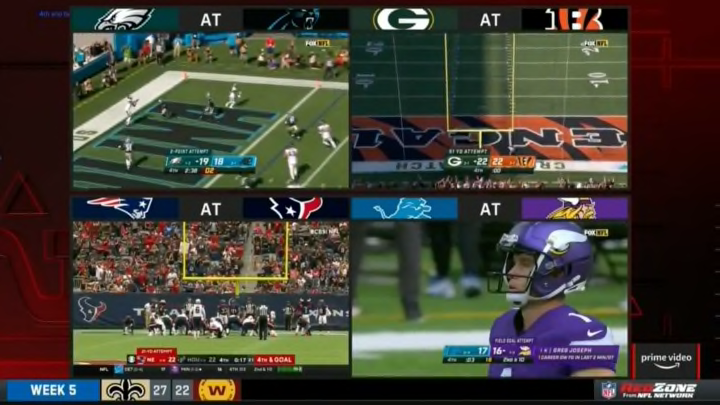 Quadbox! /
Scott Hanson is going to need an extra helping of ice cream tonight. The NFL Red Zone host had to call a quadbox without room to breathe during today's Witching Hour.
First, Jalen Hurts completed a 2-point conversion to DeVonta Smith. From there, a symphony of field goal attempts rang out as the stakes reached a crescendo.
First, Mason Crosby missed one of his many game-winning attempts against the Cincinnati Bengals.
Then Nick Folk hit a game-winner with 17-seconds remaining as the Patriots completed a comeback against the Houston Texans.
Finally, the Detroit Lions tasted bitter disappointment as Greg Joseph hit a game-winner at the buzzer for the Vikings. The Lions had just completed an improbable comeback and taken the lead on a ballsy two-point conversion,
This was the kind of thing that people tune into RedZone to watch. As much football as can possibly be consumed in one sitting.