Red Wings Coach Derek Lalonde Wanted to Know What the Hell the Refs Were Doing Out There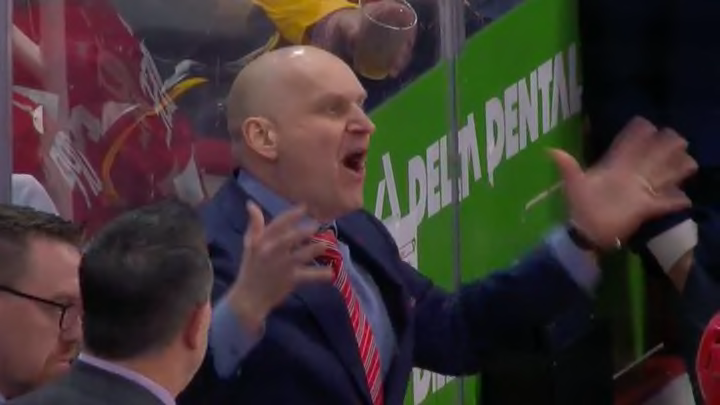 The Detroit Red Wings have made great strides this season as Steve Yzerman tries to further his legacy by transforming the franchise into a contender. They won't sneak into the playoffs without going on a 10-game winning streak to close the season and coach Derek Lalonde understands he'll have to fight tooth and nail for every 50-50 call if his team is to shock the world. Or, at the very least, respond to unfortunate replay decisions with pointed and colorful language to inspire.
Which he did last night against the Pittsburgh Penguins after his coach's challenge of a potential goaltender interference failed.
One need not be a professional lip-reader to piece his thoughts together. It's the same thing we all do in the comfort of our own homes when we find out the kid's trip to the allergist, which was supposed to be covered by insurance, has now resulted in a four-figure bill.
Lalonde was ejected for the display and forced to watch the final 31 minutes of the game from his office. Thankfully his mood was improved by David Perron notching a third-period hat trick in a 7-4 victory.
I don't know. Maybe make this a thing going forward. Get tossed until the time it doesn't spur on a flurry of goals. These are drastic times after all.