Do Not Draw a Line After Umpire Emil Jimenez Makes the Right Call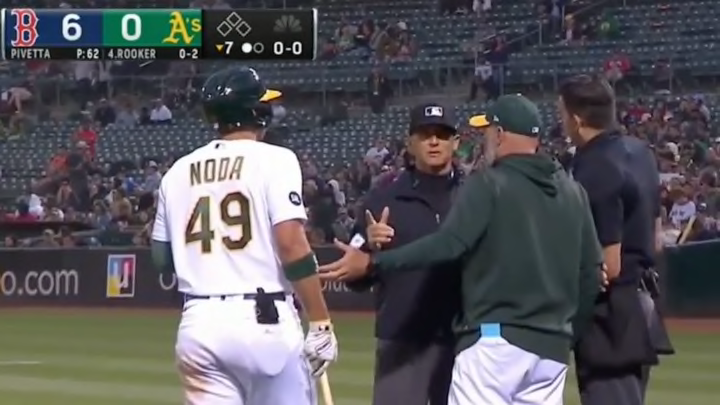 Stop us if you've heard this one before but the Oakland A's lost again last night, this time to the Boston Red Sox which brings their record to 25-71. The home team managed to muster a single hit and didn't show much life. Except for first baseman Ryan Noda, who earned himself an automatic and particularly embarrassing ejection in the seventh inning.
After taking a called strike that clearly got a hefty portion of the plate, he feebly fanned on another pitch that would have caught the corner. Frustrated, he drew a line far afield of the plate with a little chipping motion to show his displeasure. Umpire Emil Jimenez prompty removed Noda of his burden by delivering the ol' heave-ho.
Athletics manager Mark Kotsay came out to offer some sort of halfhearted argument that Noda wasn't drawing a line and was actually practicing his short game or something but what was done stayed done.
Umpires get all sorts of crap and it's often warranted. Yet fairness dictates when they simply do what needs to be done and the player involved is being ridiculous. The strike call here in question wasn't even questionable.