Latest NFL Leads
Marcus Peters Flips Out at John Harbaugh in Final Moments of Ravens-Bills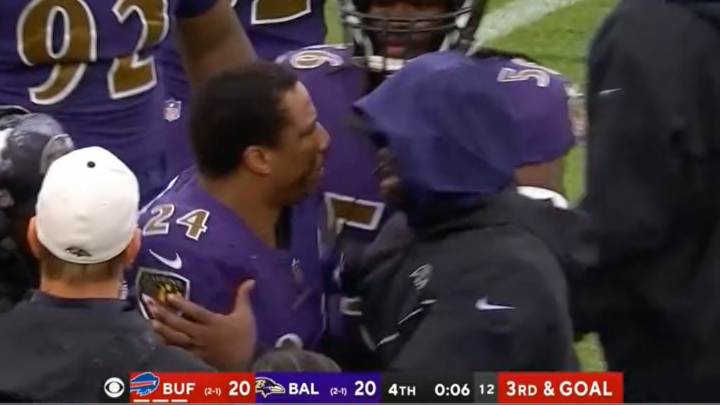 Marcus Peters /
The Baltimore Ravens blew a huge lead for the second time in three weeks on Sunday as they lost 23-20 to the Buffalo Bills. They once led 17-3. At home, no less. It's another extremely frustrating loss and it clearly got to cornerback Marcus Peters as the clock wound down on yet another poor defensive performance by Baltimore.
After the Bills kneeled with just more than a minute left to ensure they'd take a chip-shot field goal as time expired, Peters could be seen getting very upset on the field. The broadcast was going back and forth but it appears Peters walked off the field getting even more upset and ended up getting into head coach John Harbaugh's face before another coach stepped between the two.
Tempers tend to run high after a bad loss like that and especially when it's the second bad loss in the first four games of the season. While Peters is culpable as a member of the secondary that let the Bills back into the game, he is probably more mad at Harbaugh for going for it on fourth-and-goal instead of kicking a field goal right before the Bills' final drive. Or that the defense wasn't told to let the Bills score when they ended up inside the 10-yard line and the Ravens only had one timeout.
A lot to be mad about, really. It's no surprise someone lost their temper. The fact that it was towards the head coach is the real surprise, especially for the even-keeled Ravens franchise.