Ravens RB Justice Hill Gets Hurt Halfway Through Run, Limps For First Down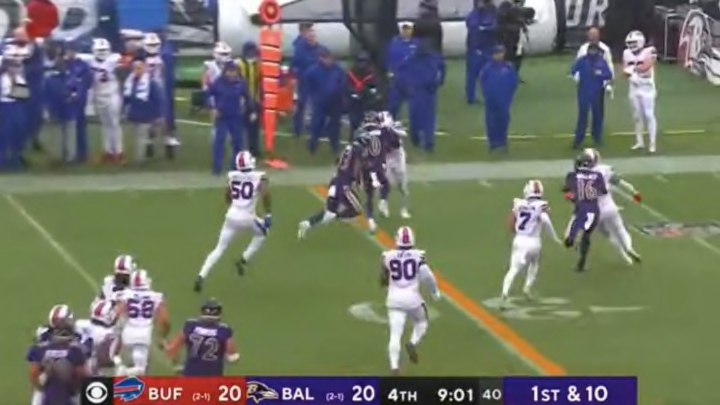 Justice Hill /
The Baltimore Ravens got off to a hot start against the visiting Buffalo Bills before collapsing down the stretch and ultimately blowing a two-touchdown lead. Is this turning into a trend? Another post for another day. This one is about Justice Hill, one of the Ravens' running backs.
Baltimore was driving in the fourth quarter of a 20-20 game. On first and 10, Lamar Jackson handed the ball off to Hill. Hill started off right before cutting it back to the left. After about five yards, Hill pulled up and started limping, appearing to suffer a non-contact injury. Instead of going down immediately like just about anybody else would, Hill limped for more yards and managed to gain a first down before finally letting his body rest.
Very impressive, but one wonders about the contrast displayed in cheering for Hill here in the wake of the horrifying Tua Tagovailoa injury. Once again, another post for another day.
Anyway, how about that run?