Multiple Brawls Break Out During Ravens-Commanders Joint Practices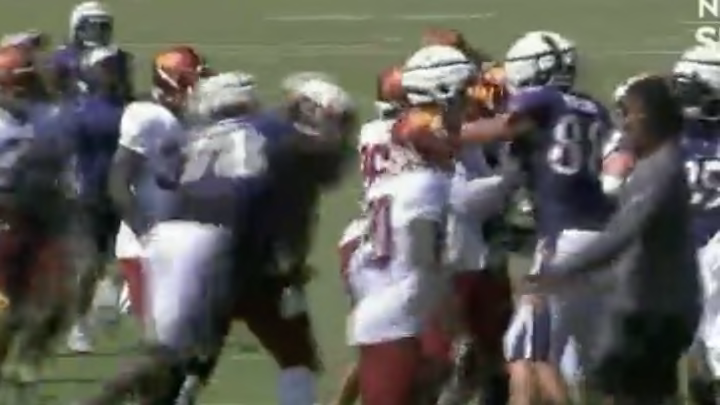 Ravens-Commanders /
The NFL preseason is well underway and many teams are participating in joint practices this week so all the players can finally beat up on opponents rather than teammates. As always this results in tempers running hot and scrums breaking out with some regularity. The coaches don't even mind, for the most part. Iron sharpens iron or whatever.
Anyway, the Baltimore Ravens and Washington Commanders are together for camp this week and it only took until Tuesday for the fireworks to begin. The first fight featured Washington's first-round pick, Emmanuel Forbes, exchanging punches with third-year Ravens wideout Tylan Wallace. They were pretty legit punches, too.
Less than an hour later Mark Andrews drew the ire of the entire Commanders defense by body-slamming a corner who picked off a Lamar Jackson pass intended for the tight end. It sparked a much larger fight that quickly devolved into something more resembling a scuffle.
It's always a good fight when the end result is both team's 90-player rosters just lingering around each other like the bullpen guys getting to home plate after a benches-clearing incident.
It's been pretty slow as far as the brawls go in training camp this year, but this is the week when the joint practices begin in earnest. An uptick in scuffles, fights, and scrums often accompanies. The Ravens and Commanders might just be kicking things off.