Rangers Broadcasters Blast Umpires For Awful, Game-Changing Call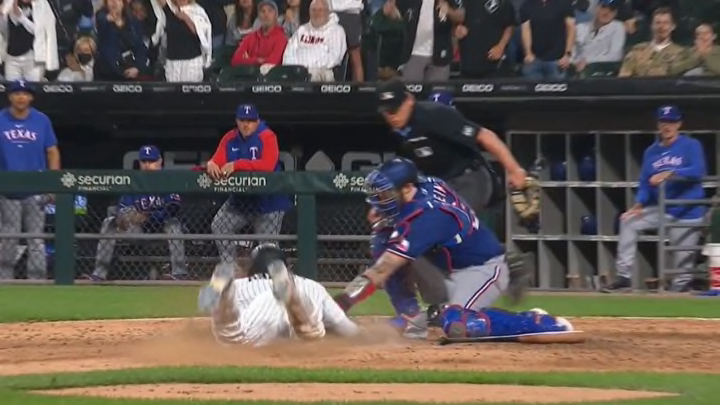 The Texas Rangers and Chicago White Sox were all tied up 6-6 in the bottom of the eighth inning Tuesday night when one of the worst calls of the 2023 MLB season occurred. The Rangers' broadcasters were furious at the result.
With two outs and Elvis Andrus on second base, Zach Remillard singled to left field. As Andrus rounded third to score, the ball beat him and Rangers catcher Jonah Heim tagged him out. It seemed like a pretty simple play and an easy call, and home plate umpire D.J. Reyburn called Andrus out
The White Sox challenged the call and the replay officials in New York made the ridiculous decision to overturn the call, claiming that Heim was blocking the plate. He wasn't.
Rangers manager Bruce Bochy ran out of the dugout and was immediately ejected, while the team's broadcasters, Dave Raymond and C.J. Nitkowski blasted the call.
Check it out:
"That is a travesty and an absolute embarrassment." Couldn't have summed it up better myself.
Heim gave Andrus a clear line to the plate, so much so that he had to sweep tag him to get the out. Rayburn should get a lot of credit here because he made the right call, the replay folks should be embarrassed.
That run made the score 7-6 and the White Sox closed things out the next inning. It was a legitimately game-changing call.