Latest NHL Leads
Rangers and Capitals Open Game With a Brawl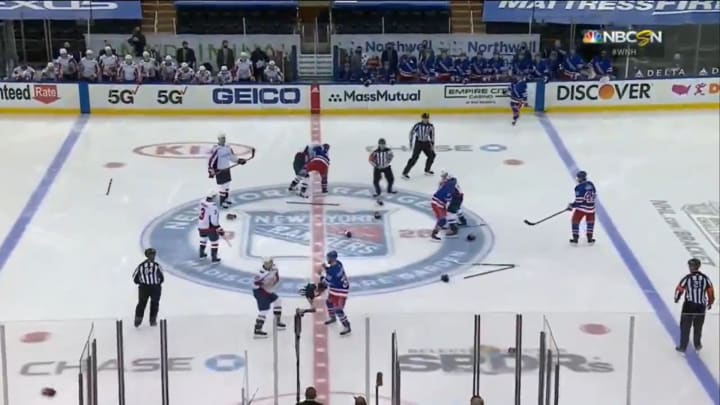 The New York Rangers and Washington Capitals brawl at center ice /
After Tom Wilson's unacceptable conduct the last time the Washington Capitols and New York Rangers played, it was inevitable that things would get ugly during Wednesday's rematch. And things started badly right off the bat. As soon as the puck was dropped three fights broke out in a classic line brawl.
Check it out below:
A few seconds after play resumed, Rangers' defenseman Brendan Smith went right after Wilson:
Wilson was shown shoving a Rangers forward Pavel Buchnevich's face into the ice, then sucker-punching him. He also ragdolled forward Artemi Panarin to the ice, grabbing his hair and slamming his head down. Watch below:
Wilson was only fined $5,000 by the NHL and not suspended. Which is pretty ridiculous. A lot of people were really upset with that decision and he put two players in danger. He also has a reputation for being dirty.
If he'd have been suspended, maybe we wouldn't be getting the violence we're seeing on the ice tonight.