Latest NFL Leads
Sean McVay Celebrates in End Zone After Matthew Stafford TD Pass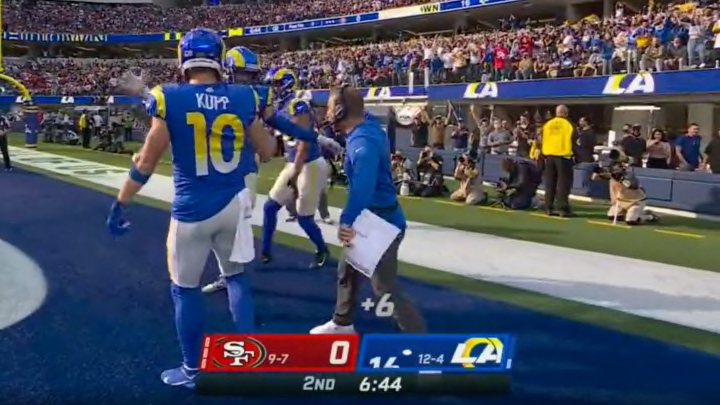 Sean McVay /
The Los Angeles Rams took on the San Francisco 49ers Sunday afternoon. It was a more important game for the Niners than the Rams, who had already clinched the division title and only needed a win to secure the second seed in the NFC. But San Francisco's playoff hopes rode largely on earning a victory against LA.
The Rams got off to a quick start, slicing and dicing the Niners' defense with ease in the first quarter. Halfway through the second quarter, Matthew Stafford tossed a beautiful rainbow to tight end Tyler Higbee in the end zone. Higbee went up and got it, extending Los Angeles' lead to 17-0.
And Sean McVay somehow ended up celebrating with everyone.
We see coaches get all sorts of excited about big plays like that, but we never see them sprint into the end zone to celebrate like he's on the field with the players. Hilarious.
Every now and again McVay's age shows itself. This was one of those times.