Eric Weddle Comes Out of Retirement to Deliver Cheap Shot to Mike Evans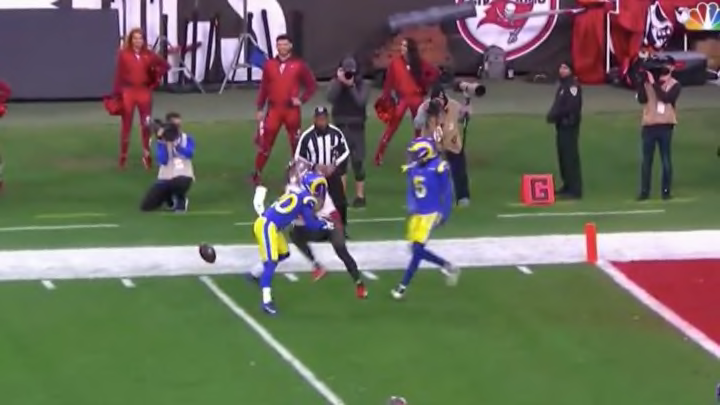 Eric Weddle hits Mike Evans high /
One of the weirder NFL storylines during the playoffs was the Los Angeles Rams bringing Eric Weddle out of retirement to play safety after usual starter Taylor Rapp got hurt late in the regular season. Weddle retired after the 2019 season but apparently was in good enough football shape that the Rams trusted him over someone whose actually played a down sometime in the last two seasons.
Weddle had mostly been quiet until the fourth quarter of the Rams' divisional round matchup with the Tampa Bay Buccaneers, where he very nearly cost his team a crucial stop on fourth down with a late, cheap hit. Tom Brady lofted a high pass to Mike Evans near the goal line. Evans couldn't make a play on the ball but Weddle still nailed him in the helmet.
Weddle was flagged for the hit but the officials determined it was a dead ball foul instead of a pass interference call, which meant it was Rams ball and the penalty was enforced on first down instead of giving Brady and the Bucs the ball back. It's a bit weird but the correct ruling.
Lucky for Weddle and the Rams. It was a dirty hit that was entirely unnecessary and momentum was swinging towards the Bucs. The Rams are fortunate it didn't cost them and it was even more fortuante that Evans wasn't hurt on the play.