Aaron Donald Fights D.J. Humphries During Rams-Cardinals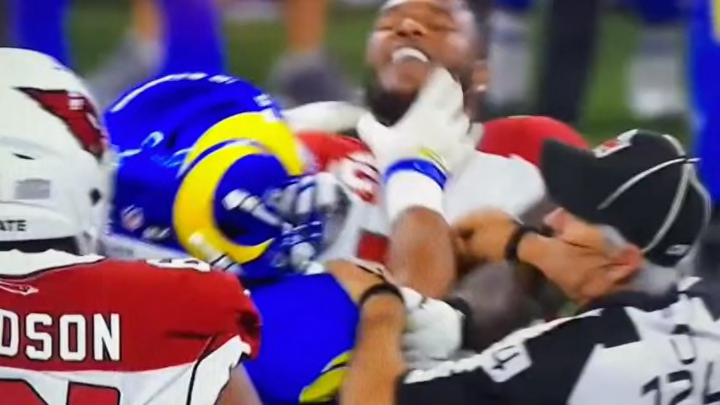 Aaron Donald vs. D.J. Humphries /
The Los Angeles Rams got off to a quick start and never looked back on Monday evening, hosting the Arizona Cardinals in their Wild Card playoff matchup. The Cardinals looked extremely unprepared for the bright lights of postseason football and the Rams quickly took care of business, going up three touchdowns in the first half without giving up a single point.
Los Angeles quickly scored on their first possession after the half to make the score 28-0. As the Cardinals attempted to gain some momentum, Aaron Donald got into it with Cardinals lineman D.J. Humphries after a long completion by Kyler Murray. He was penalized for unsportsmanlike conduct.
It appears that Donald tried to choke Humphries, which is not the first time the All-Pro defensive tackle has done that this year. Back in November he was penalized for trying to choke Packers lineman Lucas Patrick.
Donald is a great player but that kind of stuff won't fly with anybody.