Rally Cat Scares Dominic Fletcher's Fiancée During Angels - Diamondbacks Game
If something interesting happens and Twitter is down, did it really happen?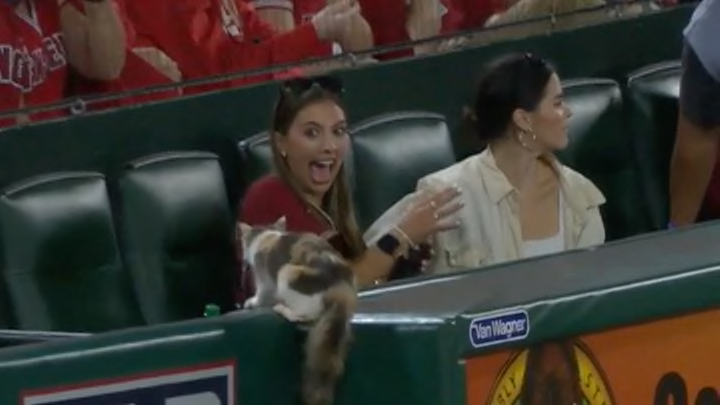 The Arizona Diamondbacks beat the Anaheim Angles, 6-2, on Friday night, despite the fact that Shohei Ohtani hit his 30th home run. The game also marked the first time that Angeles infielder David Fletcher and his brother, Diamondbacks outfielder Dominic Fletcher met for the first time on an MLB field, which is pretty cool.
Dominic's fiancée, Emily Edwards, and David's wife Kierra Fletcher, had great seats to see the historic family matchup and were rewarded with a surprise visit from a rally cat. You can see Emily freaking out in the picture above. You're going to have to go over to the MLB website to see the video because Twitter is a trainwreck on top of a dumpster fire right now so it's not like there are any easily embeddable videos of this incident anywhere.
So that's where we're at right now. We've come to rely on that website since it was so reliable and easy to use and everyone was there and then that one guy bought it and has made it his entire focus to run it into the ground for reasons that still remain unclear. Why couldn't he have just bought a sports team? People run those things into the ground all the time and they don't have anywhere near the real world consequnces.
And why can't anyone simply clone Twitter? It's text. And some pictures and videos. In order. It shouldn't be this hard when the person who owns the original thing is trying so hard to ruin it. The site would be doing better with the rally cat in charge.