Raiders Safety Gets Called For Helmet-to-Helmet Personal Foul on Legal Hit Against 49ers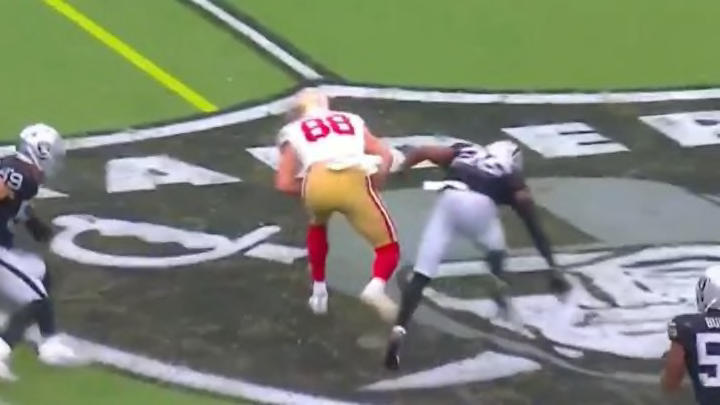 The Las Vegas Raiders were on the wrong end of the first egregious personal foul of the NFL season. Luckily, it was just the preseason and it didn't result in points for the other team. Still, this was a bad call and a reminder of some of the bad calls we saw last season.
49ers quarterback Trey Lance completed a pass across the middle to tight end Troy Fumagalli at midfield with less than 20-seconds remaining in the half. As Fumagalli came down and turned he was met by Raiders safety Jaquan Johnson who hit him shoulderpad on shoulderpad. Johnson bounced of Fumagalli and the tight end turned up field for a 22-yard gain. After the penalty Niners were at the 22 with nine-seconds remaining.
After an incomplete pass San Francisco settled for a missed field goal as time expired in the half. So again, no big deal. Obviously, this is part of the NFL trying to police the most dangerous hits out of the game, which is good, but that's not going to change the way people feel when this call stands in a regular season game.
In other positive news, Trey Lance had a very good half against the Raiders, completing 10 of 15 passes for 112 yards and a touchdown. Not bad for a backup.