Raiders' Quinton Jefferson Spots Scissors on the Field, Saves the Day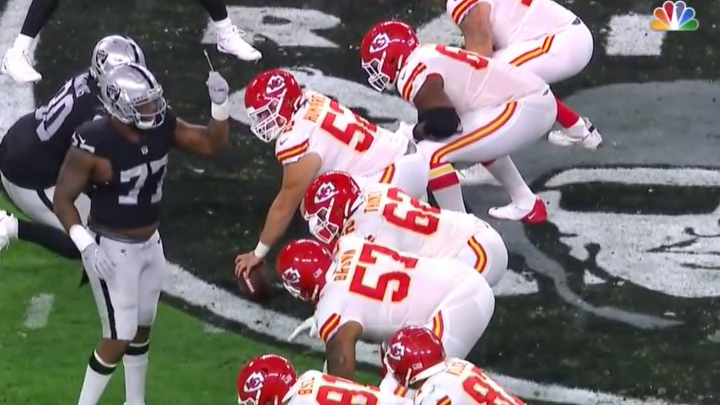 Patrick Mahomes took out a season's worth of frustration against the Las Vegas Raiders on Sunday night, throwing for five touchdowns in a 41-14 rout. The Kansas City Chiefs finally proved they are capable of looking like the team we've come to love and fear in recent years, a significant development in the wide-open AFC. Obviously, there were precious few highlights for the home team but fans of cleanliness and responsibility everywhere are delighting this morning in the actions of Raiders defensive tackle Quinton Jefferson, who may have prevented serious and unexpected injury by spotting a sharp object on the field and removing it.
There was a tremendous amount of speculation following the incident as to the foreign object. Many thought it was either a spoon or fork, creating all sorts of questions about how something like that would get on the field. After a night of sleuthing, though, consensus opinion has landed on scissors. Likely from a medical kit, used to cut away athletic tape. One can understand how those got left out on the field, pointy ends waiting to dig into a tight end's flesh or worse.
And to think the Chiefs' offensive line had the audacity to lobby for an offsides call in the moment. Jefferson should be celebrated for his eagle eye and quick thinking for preventing potential calamity. The word hero is overused ... so let's just call him an hero.