Raiders Gather on Chiefs Logo Before Kickoff, Promptly Fumble on First Play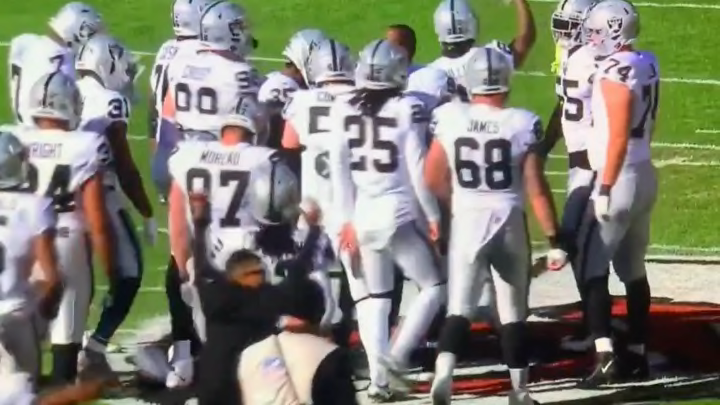 Raiders gather on Chiefs logo /
In sports, there are few things more disrespectful than standing on an opponent's logo. Intentionally, anyway. Everyone stands on the logo at some point while they are on the field and court. But to intentionally congregate atop an opponent's logo gets blood running hot.
Regardless of how dumb you may think that is, it's true. The Las Vegas Raiders committed such a heinous act today. Visiting Kansas City to play the Chiefs in an important divisional game, pass-rusher Yannick Ngakoue motioned his team to all stand on the Arrowhead logo at the center of the field before the game. It seemed intentionally disrespectful. The Raiders were making a statement-- they were not afraid to come into Patrick Mahomes' house.
Sometimes karma comes right back at you when you do something like that. The Raiders learned this when they fumbled on the first offensive possession of the game after standing on the logo.
Yikes. If the Raiders are going to come at the Chiefs like that, they gotta back it up when the game actually starts.
There's still lots of time, obviously, for Vegas to climb out the hole they dug themselves. But sports are funny sometimes, aren't they?