Rafael Devers Appears to be the Chosen One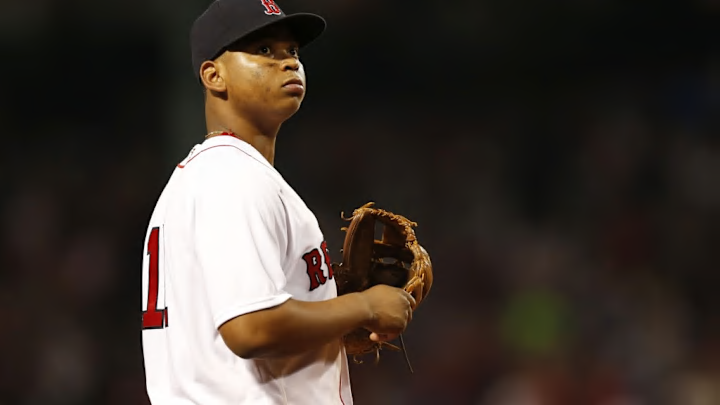 Twenty-year-old Rafael Devers was called up last month by the Boston Red Sox to fill a hole at third base. All he's done since is show how easy baseball can be.
Devers, like Gary Sanchez in 2016 and Cody Bellinger this year, has hit the ground running and hit the ball with remarkable force and regularity.
In 17 games he's posted a .348/.411/.667 with six home runs and 17 RBI. He's made Major League pitching look weak after cutting his teeth with a paltry 38 Double-A at-bats. It's a small sample size but he's in exclusive company. Since 1901, only nine players under the age of 21 have notched a 1.000-plus OPS over their first 50 at bats. Devers joins Hall of Fame names like Ted Williams, Mel Ott, Eddie Mathews, Jimmie Foxx, Willie McCovey, Albert Pujols, and Alex Rodriguez.
He's also quickly amassing magical moments on the big stage. On Sunday night he turned around a 102 mph Aroldis Chapman fastball for a game-tying home run at Yankee Stadium. On Tuesday he started an around-the-horn double play.
The kid is really, really good. And he has — for now — a noticeable aura of special favor surrounding him. He's proved an excellent addition for the Red Sox, who opted to take a chance on an unproven player instead of bringing in a veteran third baseman at the trade deadline.
Devers is making Sox brass look like geniuses and making himself looking like a player marked for greatness.