Quentin Johnston Cost the Chargers a Win With the Worst Drop of the Season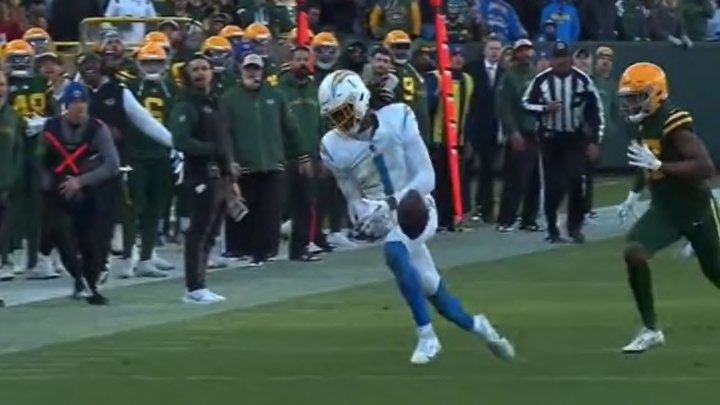 The Los Angeles Chargers lost to a bad Green Bay Packers team on Sunday at Lambeau Field, as the Bolts snatched defeat from the jaws of victory. The Chargers led late in the fourth quarter but allowed Jordan Love to take the Packers down the field for the go-ahead score. Still, Justin Herbert had a chance to answer back and that drive was sunk by the worst dropped pass of the season.
The Chargers faced third-and-6 from their own 30-yard line with 30 seconds to go. Green Bay led 23-20, so all LA needed was a field goal to tie. Herbert dropped back and found rookie receiver Quentin Johnston wide open streaking down the right sideline. He put the ball in Johnston's hands and, well, things didn't go well after that.
Johnston was on Green Bay's 36-yard line and behind Packers' cornerback Carrington Valentine. He reached up for the ball, fumbled it in his hands and as he tried to secure it, the ball bounced off his right leg and fell harmlessly to the turf.
Watch:
I don't know how a professional receiver drops that ball. There was nobody behind him. While he may have gotten caught from behind, a catch would have at least put the Chargers in field goal range. But Johnston is a fast receiver and that could have easily been a touchdown.
The Chargers spend a first-round pick (No. 21) on Johnston in the 2023 NFL Draft, passing on Zay Flowers (No. 22) and Jordan Addison (No 23) to do so. On the season Johnston has 20 receptions for 183 yards and one touchdown. The decision to draft him looks like a mistake so far.