'Quarterback' Edges out 'The Lincoln Lawyer' For Top Spot on Netflix US TV Shows List
Patrick Mahomes is must-stream TV.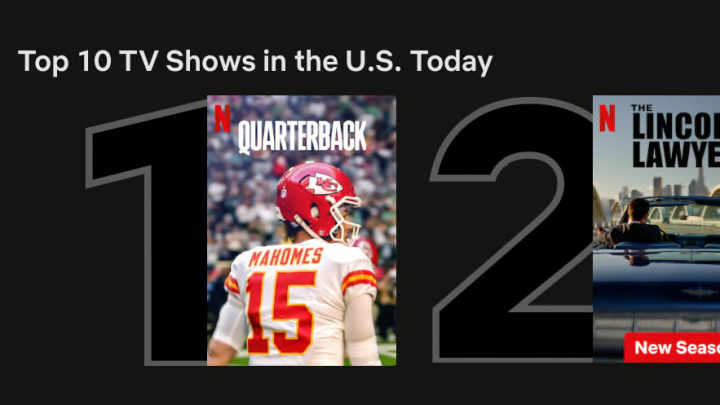 Quarterback, Netflix's new show about quarterbacks, hit the streamer on Wednesday, July 12th. Two days later ESPN's Adam Schefter pointed out that the show was the #1 TV show in the United States, What he didn't mention was that it had edge out The Lincoln Lawyer. Much like Little Jerry Seinfeld running from here to Newman's in under 30 seconds, we don't know if that's good.
The rest of the Top 10 is currently: Survival of the Thickest, Sonic Prime, Suits, The Witcher, Tom Segura's latest standup special, Is It Cake Too?, Hack My Home, and Record of Ragnarok. This isn't exactly a murder's row of incredible television, but if the algorithym says people love streaming football as much as they love watching football, what are you going to do? Cancel your subscription and tell them they need to pay their writers fairly? (Spoiler alert: It is cake.)
As for the actual show, Quarterback has received positive reviews from both critics and fans and generated a bunch of clips worthy of the viral tag. It's like Hard Knocks, but focused on the players whose names everyone knows. No need to worry about that 7th round pick fighting for a roster spot. Just focus on Kirk Cousins being sore and Patrick Mahomes hosting parties.