Peyton Manning Launching Bourbon Brand With Jim Nantz, Andy Roddick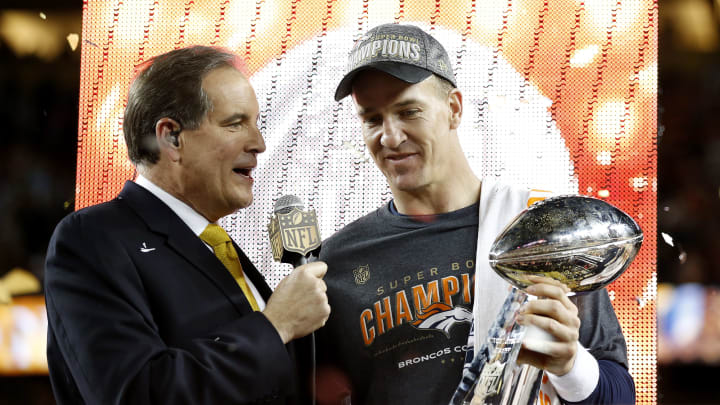 Peyton Manning and Jim Nantz / Ezra Shaw/Getty Images
Peyton Manning has now been retired for five years and has generally kept a low profile. Despite regular rumors that he could be enticed to join a broadcasting booth of some type, Manning has refused such advances to this day. His public appearances are generally limited to golf outings and episodes of Peyton's Places on ESPN+.
Manning will be a featured face in Sunday's golf match to raise money for COVID-19 relief alongside Tom Brady, Tiger Woods, and Phil Mickelson. A few days after that, he'll be launching a new endeavor with Jim Nantz and Andy Roddick. On May 26, preorders will open for Manning's new bourbon line, Sweetens Cove. Manning owns the Tennessee-based distillery alongside Nantz, Roddick, and a small group of investors, per Golf Digest. A bottle of this fine bourbon will run you $200. The brand honors a small, nine-hole course in the middle of nowhere, Tennessee, of the same name.
Manning selling Tennessee-distilled bourbon to be consumed on a golf course is all very on-brand for the Super Bowl-winning QB. Nantz and Roddick's inclusion is a bit more of a surprise, but all famous people in the sports world know each other somehow, I suppose.
Given the price tag, I will not be enjoying a glass of this bourbon anytime soon, and given there are "only" 14,000 bottles to be released, it will be a collector's item until they up their distribution. I imagine we'll be seeing some merchandise from Manning on the course come Sunday. Nothing tops off a quality bourbon like a great logo on a golf hat, as we all know.