Latest Peyton Manning Leads
Peyton Manning Caught Cursing on Hot Mic During Rams-Cardinals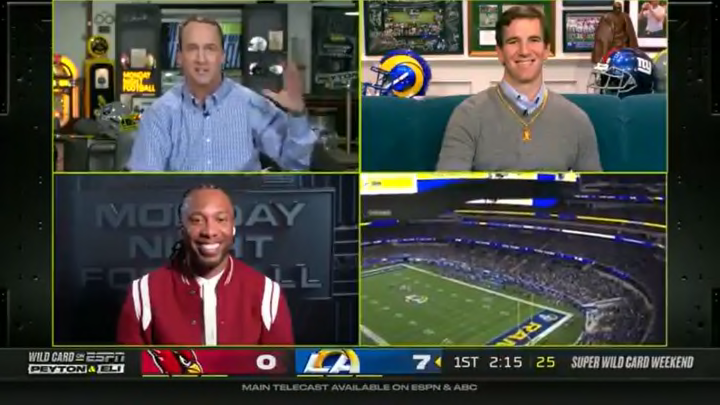 Peyton Manning, Eli Manning and Larry Fitzgerald on the ManningCast /
Peyton Manning let loose with some language that may be frowned upon by the folks at ESPN. In the middle of the eventful final ManningCast of the season during the Los Angeles Rams-Arizona Cardinals Wild Card game, Manning said "I can't hear sh*t."
The moment came after the Rams scored their first touchdown on a Matthew Stafford pass to Odell Beckham Jr. Peyton was supposed to break the play down but apparently he couldn't hear anything.
Here's video:
Peyton later apologized for his choice of words:
This isn't the first time there has been an incident like this on the ManningCast. Marshawn Lynch dropped an f-bomb on the broadcast in October, and Eli Manning flashed the double-bird to America in September.
The show is loose and a lot of fun, so what if there are some FCC fines incoming?