Paul George Tells Indiana He Wants to Play for the Lakers, and LeBron's Going to Follow Him, Right?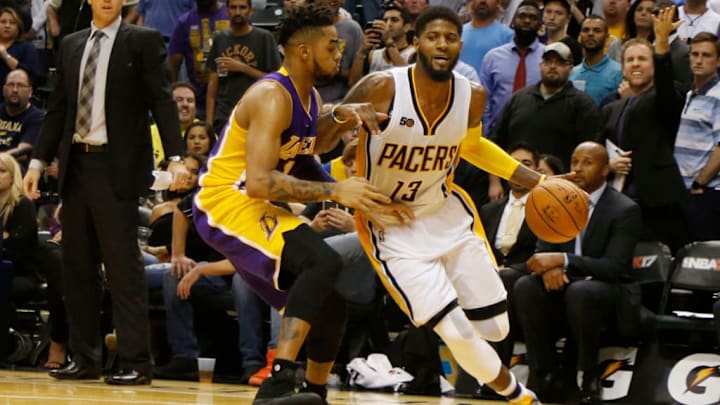 It's all coming together for the Lakers. After a few years of getting humiliated by free agents during the summer process, it's all coming up purple and gold for the Lakers now that Magic Johnson is in place.
They've got the #2 pick in next week's lottery, and all signs point to Lonzo Ball. And now Paul George has notified the Pacers he's not going to re-sign with them next summer, he'd rather play for the Lakers.
All-Star forward Paul George has informed the Indiana Pacers that he plans to become a free agent in the summer of 2018 and will leave the franchise – preferably for the Los Angeles Lakers, league sources told The Vertical.
George hasn't requested a trade before he can opt out of his 2018-19 contract, but did have his agent, Aaron Mintz, tell new Indiana president of basketball operations Kevin Pritchard that he wanted to be forthright on his plans and spare the franchise any confusion about his intentions.
We've been floating this for a couple weeks now – the Pacers should get whatever they can for George now, and the Lakers can make the best offer, with D'Angelo Russell and Julius Randle. It seems unlikely that other teams will be aggressive in trading for George, because who is going to rent him for a year?
This sets up a nuclear summer in 2018, when LeBron is a free agent, and he can join the young Lakers squad teeming with talent. What can Cleveland do now to immediately improve the franchise? The Kevin Love-for-Paul George talk was fun for a week, but that's done.
Time for the Cavs to take a real hard look at Carmelo Anthony. Gulp.