Referees Miss Obvious Delay of Game And False Start Before Patriots TD Pass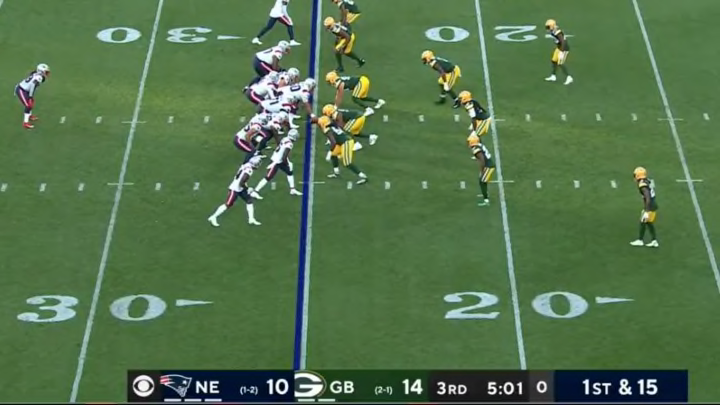 Delay of game! /
The New England Patriots were not expected to make any noise at Lambeau Field this afternoon going up against the Green Bay Packers. They had to start Brian Hoyer after Mac Jones suffered a high ankle sprain late in last week's loss to the Baltimore Ravens. Traveling to face Aaron Rodgers at home is a tough task when at full strength, much less down a starting quarterback.
But the Patriots surprised just about everybody in Green Bay by giving the Packers as much as they could handle. Even more, they had to do so with third-string quarterback Bailey Zappe after Hoyer suffered a concussion on the first drive of the game. Zappe looked every bit the fourth-round rookie but did mange to throw his first touchdown pass that doubled as a go-ahead score in the third quarter.
He didn't pull that off without a bit of help, though. The Patriots suffered a delay of game penalty on first and 10 near the red zone. Then the play clock appeared to run out for the second consecutive play. But for whatever reason the referees didn't call a delay of game this time around. They also missed a false start by the one Patriots player who expected the ball to be snapped before the play clock hit zero. Regardless, New England was able to snap the ball, and Zappe threw a touchdown pass.
Whoops! The Patriots aren't complaining. The Packers definitely will, especially if it ends up being the difference between a win and a loss.