Latest NFL Leads
Patrick Mahomes Not Among Sam Acho's Top 5 NFL Quarterbacks For Some Reason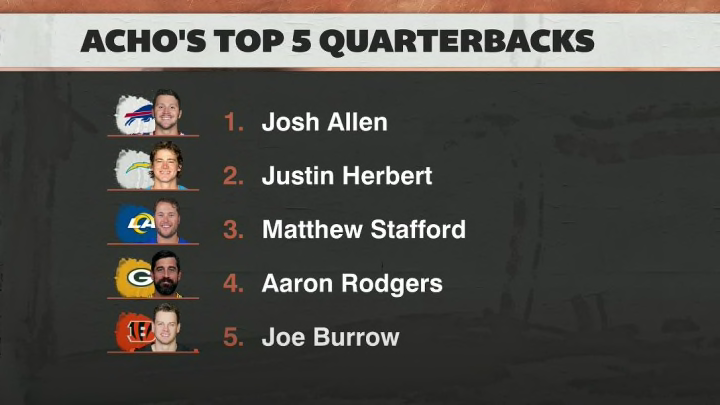 It was time to rank stuff based on personal preferences yet again this morning on First Take and Sam Acho used the opportunity to debut a list that will be studied by scholars with no further understanding for generations to come. His top-five NFL quarterbacks are, in order, are Josh Allen, Justin Herbert, Matthew Stafford, Aaron Rodgers, and Joe Burrow. Harry Douglas, serving as the avatar for a confused and slightly exasperated human audience, asked the pressing question about the Patrick Mahomes omission.
"I'm doing it based on my team, who do I want to lead my team based on what we've seen from them," Acho explained. "The last time I saw Patrick Mahomes, he really was the reason they lost in that second half and in the overtime against Cincinnati. At this moment in time, that's why he's not on my top-five list."
Alrighty.
Outside of the obvious absurdity, it might be worth noting that the last time we saw Rodgers the Packers were eking out 10 points against San Francisco. The last time we saw Justin Herbert, it was in the regular season and he failed to even notch a playoff-clinching tie.
What are we doing here? Sure, this can be legally classified as content but who actually wants this?
This is like a list of the best actors with Armand Assante in and Leonardo DiCaprio on the outside looking in.
When does Mad Dog come back again?