Patrick Mahomes, Eric Bieniemy Have to Be Separated by Andy Reid After Sideline Argument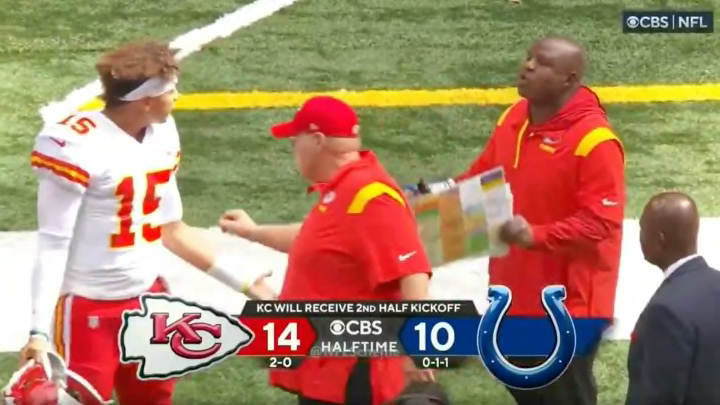 The Chiefs /
The Kansas City Chiefs were expected to walk into Indianapolis on Sunday and whoop the Colts without much trouble. The first half of the matchup proved that to be more difficult than expected for KC. Thanks to a handful of self-inflicted wounds and some bad luck, the Chiefs couldn't get much momentum going offensively. Still, they entered halftime up 14-10.
All was not well, though. The CBS broadcast caught Patrick Mahomes in a passionate argument with offensive coordinator Eric Bieniemy as everyone trotted to the locker room. It got to the point that Andy Reid had to step in and separate the two.
Tony Romo posited on the broadcast that Mahomes was upset the Chiefs ran the ball to end the half instead of trying to push and earn a last-second field goal. That seems a likely explanation. KC had the ball with 34 seconds left at their own 46. Mahomes threw two incomplete passes and Bieniemy decided to throw in the towel.
Trouble in paradise?