Pat Riley Unfazed by Jimmy Butler Going Insane on Bucks in Game 4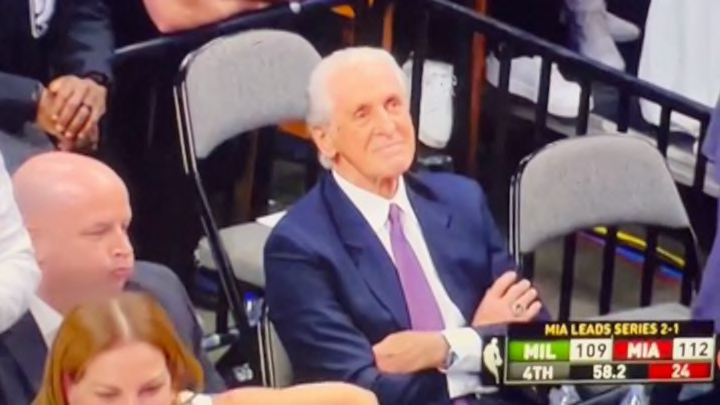 Pat Riley /
Jimmy Butler sent South Beach into a frenzy last night by dropping an astounding 56 points on the Milwaukee Bucks to put the eight-seed Miami Heat up 3-1 in the series. The arena reached peak mayhem when Butler drilled a deep stepback jumper to put the Heat up three with a minute to go. He pranced around the court screaming "This is my shit," as is his right when putting up numbers like that, before the camera panned ever-so-briefly to Pat Riley sitting in his usual seat courtside.
The basketball legend was completely unfazed by the show.
There are few people alive who can claim to have seen as much greatness as Riley on the basketball court. So it isn't a big surprise he basically didn't flinch. But you'd think you might get a little bit more from the team's president after watching Butler put up the fourth-most points in single-game playoff history.
I guess Jimmy will just have to break the record entirely to get a rise out of Riley. The Bucks better be ready for a 64-point outing soon.