'Get Up' Had Pat McAfee On to Translate Aaron Rodgers' Thoughts to Human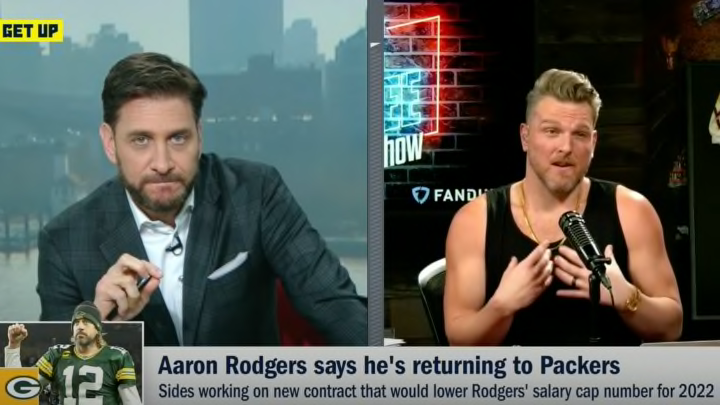 Pat McAfee appeared on Get Up this morning to talk about Aaron Rodgers' recent decision to return to the Green Bay Packers for yet another season. McAfee broke the news after Rodgers informed him of his decision. At least that's what many people believe. On Get Up McAfee repeatedly cited source[s] as he explained Rodgers' recent thought process.
According to McAfee['s source[s], Rodgers seriously contemplated retirement over the last couple months before ultimately returning to the franchise where he's spent his entire career even though they changed none of the things he communicated through other members of the media that he was not happy with.
There are questions about what role McAfee is really playing here. Is he a friend, a member of the media reporting news, or a mix of both that reporters in the past would never even wink about being accurate?
Maybe McAfee's ultimate role in all this is translating Aaron Rodgers' thoughts in a palatable, non-confrontational way. He's like the Aaron Rodgers whisperer. Rodgers would never go on Get Up and just tell Mike Greenberg that he was thinking about retirement. He'd rather go on McAfee's show and complain about the media saying he was considering retirement. McAfee does a good job translating Rodgers to regular human, which is probably the most palatable way to hear what he has to say.