Paige VanZant Gets Submitted Quickly at UFC 251, Now She's a Free Agent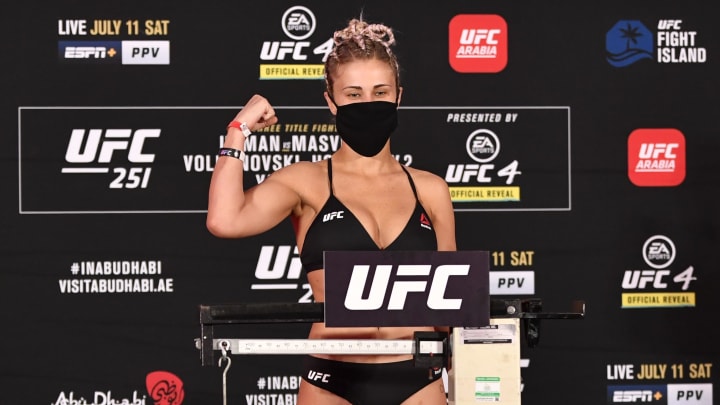 Paige VanZant, UFC 251 Usman v Masvidal: Weigh-Ins / Handout/Getty Images
Paige VanZant was in the final fight of her UFC contract Saturday night at UFC 251, and she got submitted quickly by rising star Amanda Ribas. VanZant tapped to an armbar just 2:21 into the fight. It could be the last time we see her in the UFC.
VanZant started her mixed martial arts career with a 6-1 record but she's lost four of her last six fights and has dealt with injuries for the better part of the last four years. A string of arm surgeries have essentially derailed her career. But at 26, she likely still has fights left.
VanZant is one of the more popular female MMA fighters in the world. She boasts 2.6 million Instagram followers, and the kind of personality that can produce a crossover star. That's something sorely absent on the UFC's current roster. VanZant has, in fact, already crossed over, finishing second on the 22nd season of Dancing with the Stars, winning an episode of Chopped and modeling in the Sports Illustrated swimsuit issue.
While she's not a ranked competitor at flyweight, VanZant brings eyes to the UFC and it would make sense for the organization to bring her back on a short-term deal.
If VanZant is done with the UFC there is a pretty good chance WWE comes calling. She's expressed interest in professional wrestling before and it seems like a natural fit given her credentials and her personality.