Packers' Trick Play on Fourth Down Goes Disastrously, Hilariously Wrong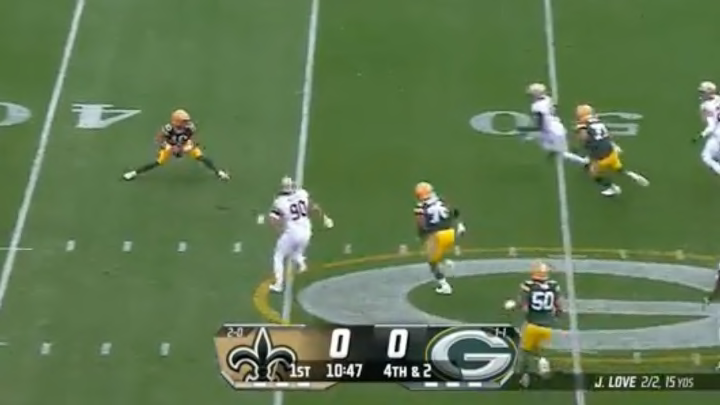 Packers-Saints /
The Green Bay Packers are hosting the New Orleans Saints today and face quite the challenge. The Saints' defense has been great to start the season, while the Packers are without multiple offensive weapons (most prominently missing Christian Watson and Aaron Jones). Jordan Love does not have an easy task in putting up points, even at Lambeau Field.
And things did not get off to a great start in that regard. In the first quarter Green Bay faced a fourth-and-two around midfield with both teams still scoreless. The Packers decided to go for it, which is a pretty standard decision from that distance. The problem is that they called a trick play and it went horribly wrong. The design called for the running back to throw the ball back to Love after a toss and then for Love to throw it deep. But the pass was low, Love fumbled with it, and then did a split as he tried to throw it downfield.
It was hilarious.
Love's hamstrings are not going to feel good tomorrow after that level of split, I'll tell you that much.
Good try, good effort, as they say. Next time Green Bay might be better off giving the ball to human wrecking ball AJ Dillon instead.