Joey Bosa Was in Tears After Hurting Foot vs. Packers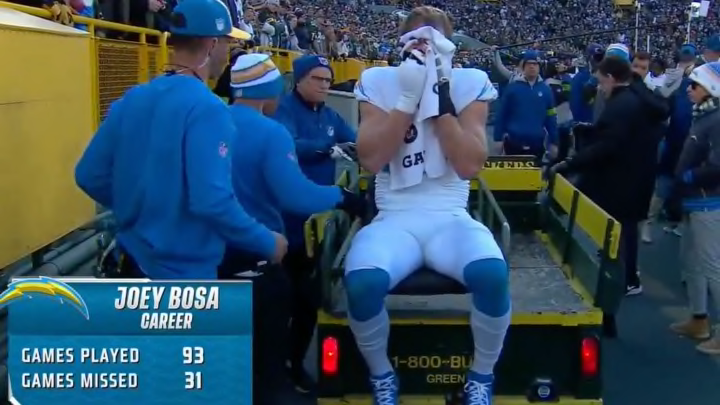 Joey Bosa /
The Los Angeles Chargers traveled to Lambeau Field on Sunday to take on the Green Bay Packers in a must-win game for both sides if anything resembling playoff hopes are to remain alive. The Chargers suffered a blow almost immediately as Joey Bosa limped off the field early in the first quarter. The former All-Pro was clearly in significant pain as he headed to the sideline.
The cameras flashed to Bosa as he got on the cart to go to the locker room and he broke down in tears.
There hasn't yet been a replay showing what actually happened during the play, but this was Bosa's reaction once he got to the sideline. Which serves as good an indicator as any that whatever happened is not good.
A brutal break for Bosa and the Chargers. He's one of the best edge defenders in the league when healthy but that's a status that has eluded him for much of his career. Now it looks like he's going to be sidelined again-- and perhaps for a while.