Oregon's Eric Williams Invents Hilarious New Way to Play Basketball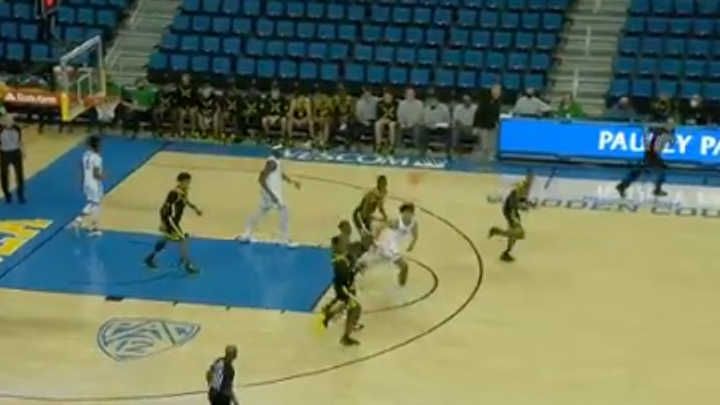 Oregon and UCLA played a spectacular game last night at Pauley Pavilion that ended with the Ducks riding high on a three-point, overtime win. It was Dana Altman's 700th career victory and will come in handy when the Joe Lunardis and Jerry Palms of the world get to the hard work of posting meaningful bracketologies in a month. The 45 minutes were chockfull of intentionally productive basketball plays but the true highlight came serendipitously and swung the result of first-half bettors.
With UCLA leading 35-28, more than the -5.5 points they were laying in the first 20 minutes, Oregon's Eric Williams picked up a loose ball with around seven seconds remaining. Despite having plenty of time to get closer than 75 feet from the rim, he opted to chuck an 88 mph fastball in the general direction. His desperation heave rocketed off the backboard and right to a streaking Quincy Guerrier, who stuffed it in for two of the more bizarre points you'll ever see.
Okay, tinfoil hat time. This actually seems like a halfway decent play for a coach to implement. If you have someone who can consistently hit the backboard with a rocket, it can become a numbers game. Oregon had a two-on-one in this situation and it paid off.
Just saying.