Officials Screw Ohio State With Horrendous Late Call Against Minnesota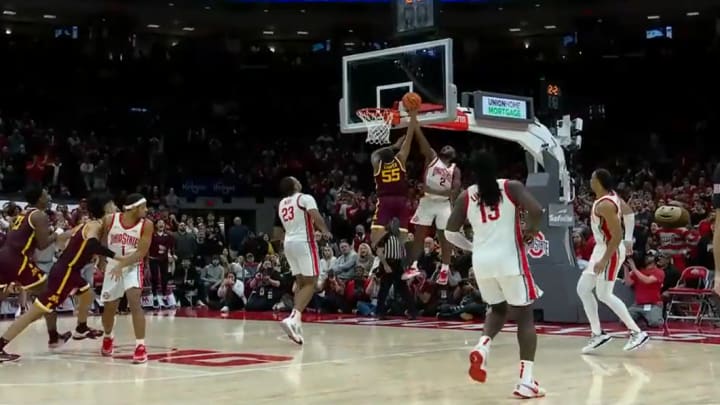 Minnesota beat Ohio State Thursday night 70-67 n Columbus. It was a huge road win for head coach Ben Johnson and his Golden Gophers. Unfortunately, that win was marred by one of the worst calls you'll see all season.
With the game tied 67-67 Minnesota had the ball for the presumed final possession of the game. Minnesota guard Ta'lon Cooper, made a sweet move to get past Justice Sueing and had an open lane to the basket. He went up to lay the ball in and Bruce Thornton flew in with a perfect block to save the game. It was clearly clean to everyone watching. Except for one official on the court.
A foul was called with one second left and Cooper made one of two free throws, giving the Gophers a 68-67 lead with 1.7 seconds left.
Check this out:
Here's another look.
That is all ball and a phenomenal play by Thornton. Just a horrible, game-changing call.
Ohio State turned the ball over on the inbounds, then fouled Dawson Garcia, who sunk two free throws to give the game its final margin.
This is the kind of stuff that drives college baskebtall coaches and fans nuts. There is zero accountability for officials who make terrible, game-altering calls like this.