Odell Beckham Jr. Punched Chuck Clark in the Butt During Rams-Ravens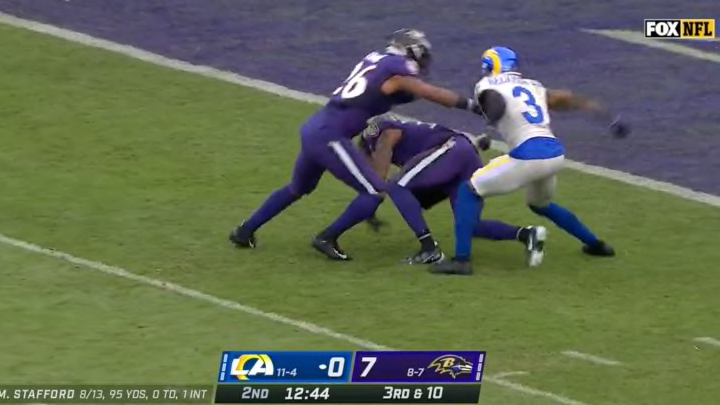 OBJ winding up /
The Los Angeles Rams narrowly escaped Baltimore with a win on Sunday afternoon against a Ravens team that refused to roll over despite being vastly undermanned and outgunned. Odell Beckham Jr. had a nice little renaissance in the 20-19 win, making several key grabs down the stretch and catching the go-ahead touchdown with less than one minute remaining.
OBJ also punched a defender in the butt earlier in the contest.
As seen above, Matthew Stafford threw his second interception to Ravens DB Chuck Clark early in the second quarter. Clark fell down after making the play and Beckham Jr. ran over as the closest Ram to do something about it. Instead of just touching Clark and ensuring the Ravens would start at their own two-yard line, OBJ apparently decided it was his moment to try and emulate Peanut Tillman, attempting to punch the ball out.
He obviously did not even come close and instead just delivered a roundhouse punch to Clark's tailbone. It is somewhat reminiscent of when Matthew Judon started a beef with Carson Wentz a few weeks ago because he also blindly threw a punch to try to force a fumble and threatened Wentz' ability to reproduce instead. Eventually somebody is going to take a fist to the jaw and all hell breaks loose.
Hands were flying all over the place between this and Jalen Ramsey slapping his own teammate in the defensive huddle. But the Rams won! So all is well.