Odafe Oweh Called for Awful Roughing the Passer Penalty on Aaron Rodgers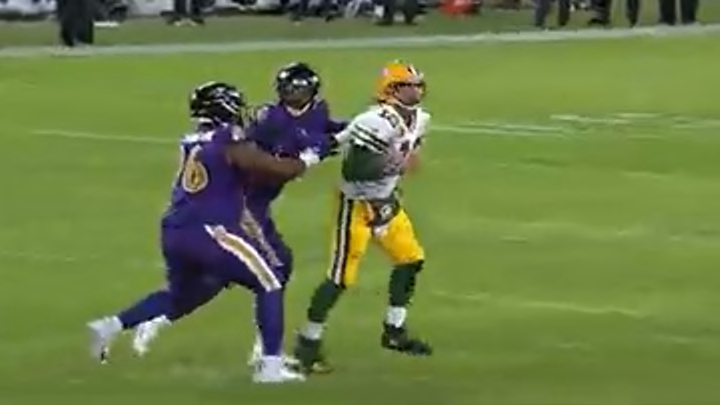 Odafe Oweh "roughs" Aaron Rodgers /
The Baltimore Ravens and Green Bay Packers are locked in a tight battle in their important Week 15 matchup. In the first half, the Packers caught a huge break as the officials gifted them a free 15 yards on an awful call.
The Packers had first and 10 on Baltimore's 18-yard line, when Aaron Rodgers dropped back and fired an incomplete pass in the direction of Josiah Deguara. Ravens rookie edge rusher Odafe Oweh was in pursuit and put his hands on Rodgers after the throw. Rodgers went down, and the officials flagged Oweh for roughing the passer.
Here's the play in question:
That was undoubtedly late, but Oweh barely touched Rodgers. There's no way that's "roughing." It's just an incredibly weak call considering what goes uncalled during most NFL games.
The Packers scored two plays later to tie the game at 7-7.