NYCFC Already Leads MLS In Contrived Atmosphere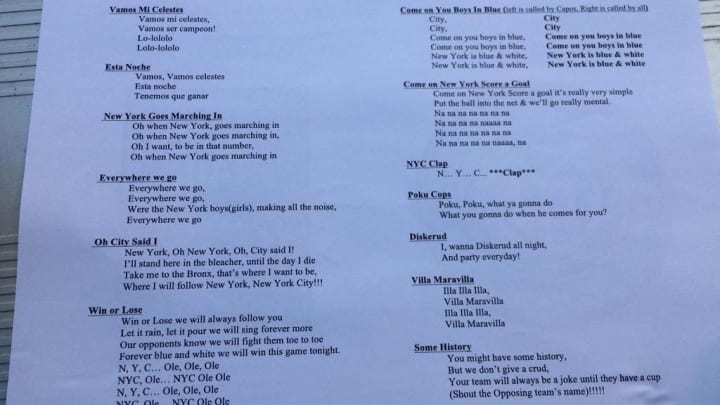 Soccer fandom is rooted in tradition. Newly formed NYCFC, even by MLS standards, have very little of it. The club's diehard supporters were handed out a helpful song sheet during a match. Internet reaction was, predictably, strong.
These aren't so bad at face value or different from true soccer chants ("I want to Diskerud all night" excepted). But, these have more than a whiff of manufacture and corporate sanitization to them (We don't give a crud, you guys!) Atmosphere should arise organically. Rest assured the song sheet has this possibility covered.
***Songs not included on this list may still be sung during the game***
The best English traditions came from terrace dudes singing old pop songs to each other. Maybe keep playing "New York, New York" before the matches with the lyrics on the scoreboard and hope fans get the idea? We'd also support "Leaving On a Jet Plane," a fitting testament to New Yankee Stadium's ambience.