Notre Dame Football Ends Week From Hell With a Little Bit of Heaven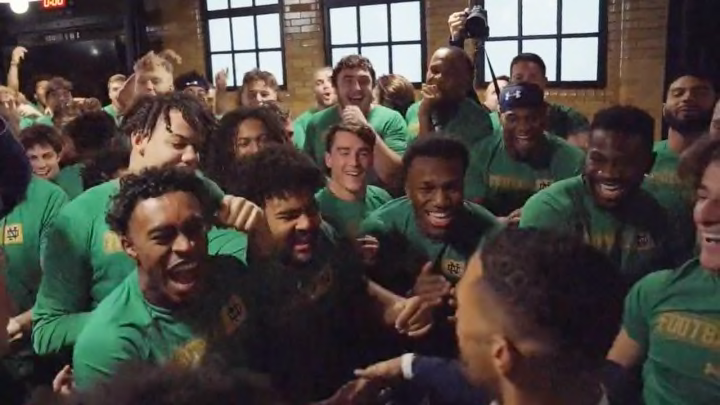 The Notre Dame Fighting Irish football program had quite a week. Players saw their head coach, the man who had led the Irish for more than a decade and had been there for the recruitment of every player, leave without any warning. Who knows what exactly every player was feeling when Kelly briefly spoke with the team on Wedesday morning, but this was a team with CFB Playoff aspirations who probably felt like that dream died there.
Still, the season wasn't over. Notre Dame will play in a New Year's Six bowl game in just a few short weeks, so somebody had to step up. The school could have named an interim coach while they conducted a bigger search, but they chose promote defensive coordinator Marcus Freeman from within instead. It will probably be a year or two until we know for sure whether that was the right call, but for now it may have chased away the black clouds hanging over the program following Kelly's abrupt departure. Here's the moment where Freeman, who is only in his first season at Notre Dame, was introduced to the team as their new coach.
If that reaction is any indication, they approve. For Freeman, who only turns 36 next month, what a moment it must have been. It was one of those scenes that somebody gets to experience just once in their entire life. Freeman was named head coach of a major football program. Could he have even dreamed of this when he was coaching the linebackers at Kent State a decade ago?
This was a room full of people happy for him accomplishing what must have been his wildest dream.