Latest NFL Leads
Fred Warner Gets Away With Dirty Hit to Matthew Stafford's Head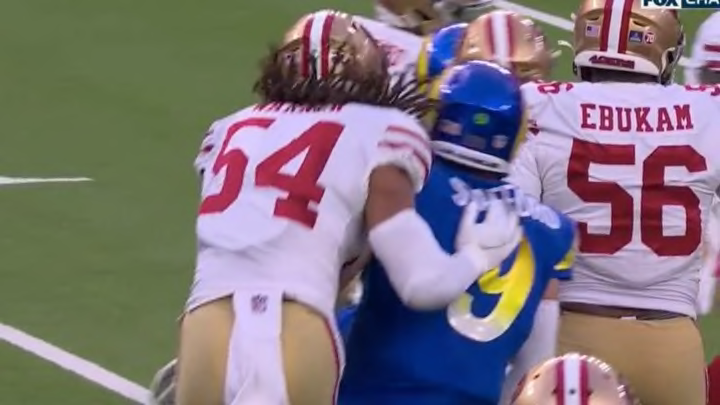 Fred Warner takes a cheap shot at Matthew Stafford /
The Los Angeles Rams faced off against the San Francisco 49ers today to determine who will come back to SoFi Stadium in two weeks to take on the Cincinnati Bengals in Super Bowl LVI. The first two possessions were three-and-outs as neither team got much going, but the Rams gained momentum on their second possession.
Los Angeles managed to get all the way to the redzone and had a third-and-goal when Matthew Stafford threw a pass into traffic that got tipped in the air and then intercepted by the Niners.
During Jimmy Ward's return, star Niners linebacker Fred Warner took a completely unnecessary and unwarranted cheap shot at Stafford's head while the quarterback's back was turned. Stafford went dead fish for a moment before popping up and demanding to know why a flag wasn't thrown.
The penalty would not have changed much since it presumably took place during the return and thus would not have canceled out the interception, but what the hell is Warner doing? It's a dangerous and dirty shot to the head that served zero purpose other than trying to injure Stafford.
There may have been no foul on the field but the NFL will probably be having a discussion about that hit with Warner next week. Bad hit.