Nick Wright Hangs a Banner, Invites a Marching Band to 'First Thing First' to Celebrate Chiefs Winning It All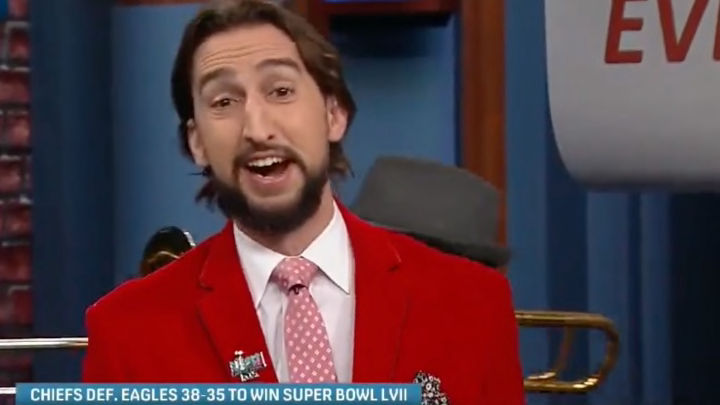 Nick Wright is a genius because he somehow figured out how to make himself trend by saying stuff like LeBron James is really good and Patrick Mahomes is really good. Why didn't anyone else think of this? Why doesn't anyone think of this? Credit to him for a heady play.
Anyway, longtime viewers of First Things First know Wright is an unabashed Kansas City Chiefs homer and would be in rare form today in the wake of a second Super Bowl crown under the watchful eyes of Mahomes and his genius offensive sherpa Andy Reid. And he delivered.
He did so by pulling a page out of the Last Week Tonight playbook, unfurling a banner for Mahomes and using his keycard to have a marching band parade around the studio.
Very entertaining and only slightly annoying. Perfectly on-brand.
It's a damn shame Wright's show moved to the afternoon because this would have absolutely killed at 6:30 a.m. ET time. Imagine nursing a Big Game hangover and closely monitoring the gas situation in your gullet after a smorgasboard of bad dietary decisions and you have a tuba blasting in your ear.
Hell. Pure hell.
Those thinking this is only a one-day bit should pause to consider that it may not be. He might do this all week.