Nick Kyrgios Nails Child in the Face With Tennis Ball at Australian Open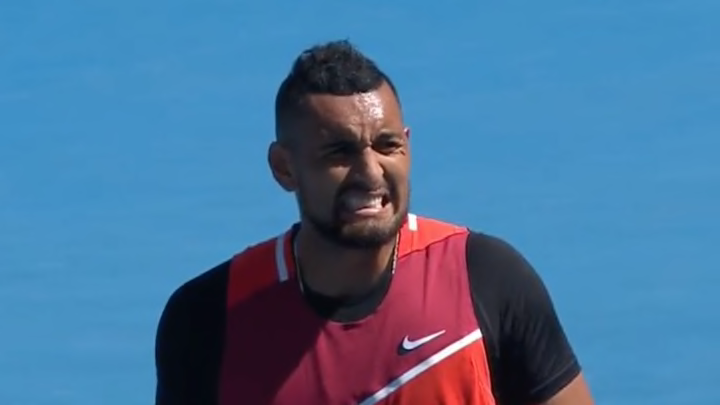 Nick Kyrgios' uh-oh face /
Nick Kyrgios teamed up with Thanasi Kokkinakis to participate in the doubles bracket of the Australian Open this week. During Tuesday's matches, Kyrgios got a bit frustrated while playing against Tim Pütz and Michael Venus and spiked a tennis ball after an umpire's whistle.
The ball ricocheted off the court and flew into the stands, where it hit a young fan in the face. Kyrgios looked shocked as boos rained down, but quickly made amends by running over and gifting the fan his own racket.
The fan in question was seen crying on the broadcast but this picture tweeted out afterwards suggested he got over the physical trauma quickly, as many his age do. He even kept the ball!
A bit of a reckless decision by Kyrgios but this was more bad luck than anything. In fact, I'm surprised there aren't more fans getting hit in the face whilst watching tennis. Tennis balls are particularly volatile in where they might fly once hitting a surface.
Regardless, well-handled by all sides.