Nick Castellanos Misplays Fly Ball, Ends Up Chasing Security Around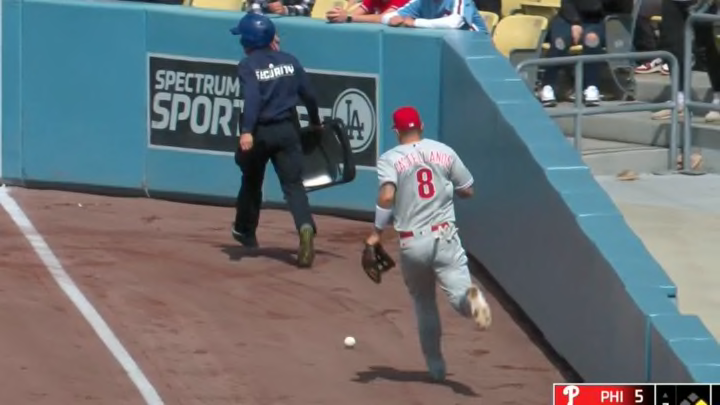 The Los Angeles Dodgers beat the Philadelphia Phillies on Wednesday, 10-6, when Max Muncy hit a walk-off grand slam, further solidifying "Max Muncy Has Completely Fallen Apart" as one of the worst takes of the young season. Before that drama, Philly had a 5-3 lead in the bottom of the 7th when Chris Taylor hit a shallow pop fly to Nick Castellanos who was not able to track it down. And then he stumbled and couldn't even get a glove on it and ended up chasing it as it rolled into the corner. If you ignore the ball, it looks like Castellanos was chasing a security guard.
Even better, if you watch the angle that NBC Sports Philadelphia used, you can see Castellanos is actually chasing away two security guards. Both running with chairs.
This man is truly a menace. No wonder he inspires such chaos in the broadcast booth.