Chiefs-Bengals Ratings Go Boom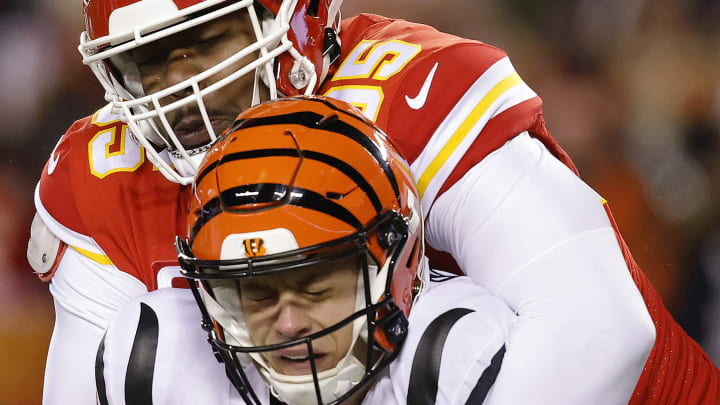 David Eulitt/GettyImages
Are you sitting down? If not, you may want to consider doing so because the AFC Championship Game ratings are in from CBS and they are even fattier and juicier than even the most optimistic executives could have imagined. Here are the triumphant bullet points highlighted by the network.
CBS SIZZLES ON SUNDAY NIGHT WITH MASSIVE VIEWERSHIP, LED BY MOST-WATCHED NFL CONFERENCE CHAMPIONSHIP GAME IN FOUR YEARS

AFC Championship Game Is Most-Watched TV Program on Any Network since Super Bowl LVI with 53.124 Million Viewers

Paramount+ Scores Its Most-Streamed Live Sporting Event of All-Time and "Fire Country" Is Streamer's #1 Entertainment Program on Sunday
Kansas City-Cincinnati had all the juice and the game, though a bit sloppy, delivered on its promise to be a classic. The NFC Championship Game numbers are still being codified into an email over at Fox, yet it's hard to imagine they'll come close considering that contest was a disaster from a competitive standpoint.
This number is an 11 percent increase over last year's matchup between the two teams. That sound you hear is CBS hoping for a third installment next January.
Perhaps more importantly, Fire Country was able to ride the wave to 10.1 million viewers, making it the most successful post-AFCG offering since 2017.