NFL Network's Colleen Wolfe Picks Eagles to Win While Wearing a Bunch of Pretzels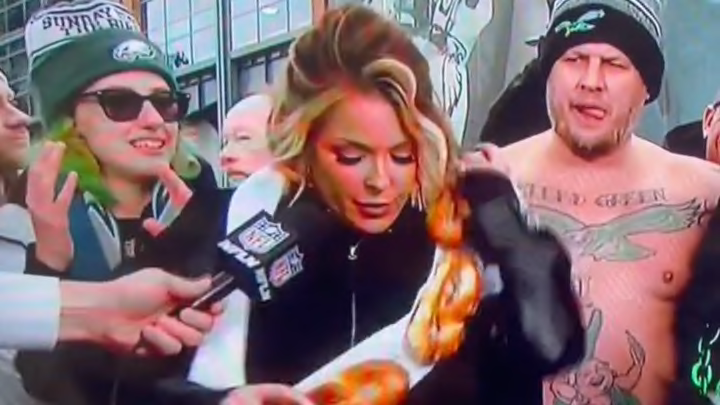 The assembled masses in Philadelphia seemed to have a singular goal of doing as much weird stuff as humanly possible before the NFC Championship Game kicked off. And honestly, it was an effort so impressive there's some genuine concern about what's going to go down should the Eagles take care of the Niners at home. So really, NFL Network's Colleen Wolfe picking the only team she could really pick to win while donning a sash full of large soft pretzels shouldn't raise too many eyebrows in contexts. It's still something few people have ever seen before.
What an item. Versatile and timeless and providing the ability to nosh on some hardcore carbs whenever the mood strikes. Someone needs to corner the market on what's sure to become one of the hottest fashion trends of the spring. Start small with some made-if-sold items at the beginning, sit back and watch the balance sheet move in the right direction.
Also, we need to have a conversation about the soft pretzel. Has to be one of the least appreciated gameday foods and yet it's always there when you need it. Great plain and even better with some dipping sauces. Perhaps we can get to it during the two interminable weeks before the Super Bowl.