'NFL Live' Crew Absolutely Stunned as Adam Schefter Breaks Aaron Rodgers Trade Live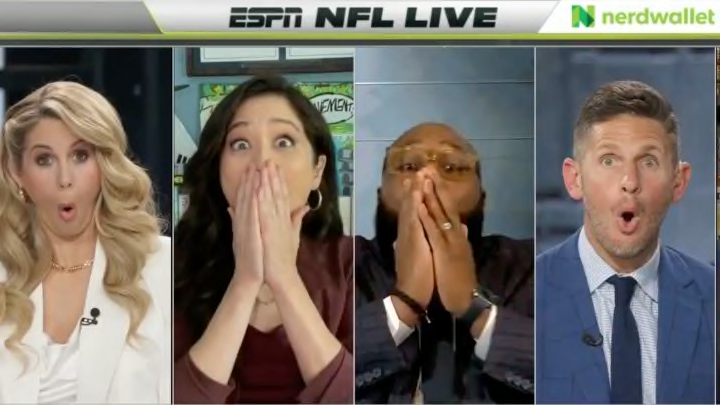 Aaron Rodgers was blissfully, thankfully, finally traded late on Monday afternoon. The move that everybody has been expecting for months finally arrived. Remarkably, Adam Schefter was live on-air when he received the news and read out the terms of the deal between the Green Bay Packers and New York Jets to the NFL Live team. This is remarkable because insiders are very rarely on-camera when they officially receive the breaking news. They'll jump on TV so quickly afterwards that you might think they've been there the whole time but even in today's breaking news economy we almost never get a dramatic, live breaking of a big trade.
It happened today, though, and the reaction of the NFL Live crew is just terrific.
Freeze-frame!
Outstanding. And what showmanship by Schefter to not reveal that the Jets were getting the Packers' first-round pick this year until after everybody made those faces. The NFL's top insider certainly knows how to bury the lede.
This is what Twitter really robbed us of. In the instantaneous news market there is simply no time to pause everything, get an insider onscreen, and do a table read of the trade from a text on their phone. We could use more of that kind of entertainment. Maybe the death of Twitter isn't so bad after all.