Kyle Brandt Spends Over 12 Minutes Breaking Down 2022 NFL Coaches Photo In Excruciating Detail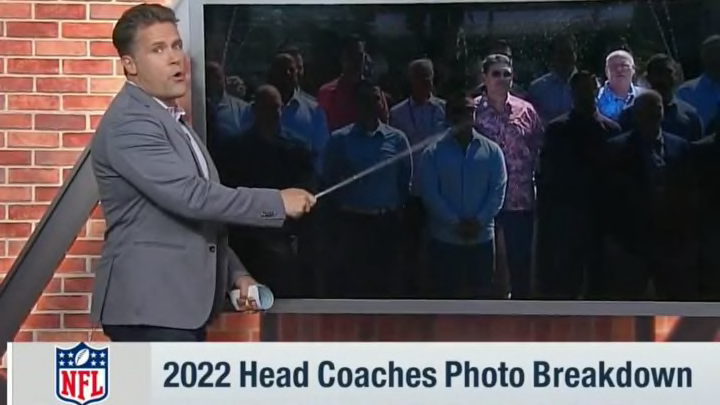 The highlight of the annual NFL owners meetings is when all the head coaches shuffle over to a designated area and pose for a class photo. There is always a tremendous amount of things to look at and jokes to be had. Good Morning Football's Kyle Brandt, understanding the importance a bunch of dudes awkwardly smiling for the cameras, has reliably broken down each edition like a college professor. But not a stodgy crank professor, a cool professor like one imagines Dr. Henry Jones was when he wasn't risking life and limb for priceless historical artifacts.
And this morning, class was in session.
Brandt was nonplussed. He called this photo a car accident and then offered to produce next year's photo pro bono right out of the gate. It is so important to have passions in life, even if they are incredibly specific and weird.
He correctly identified a lanyard issue the coaches need to clean up. Is there not a quality control person on hand? Then he shocked the world by stating that no one should be able to wear sunglasses, which will never happen because even serious football men like the nightlife.
There was a lot of other stuff too. Did we mention it was over 12 minutes of content?
Shockingly, worth your time though. Perhaps the NFL will listen and tighten things up a bit next spring.