Newsmax Host Eric Bolling: Sesame Street Are a Bunch of Communists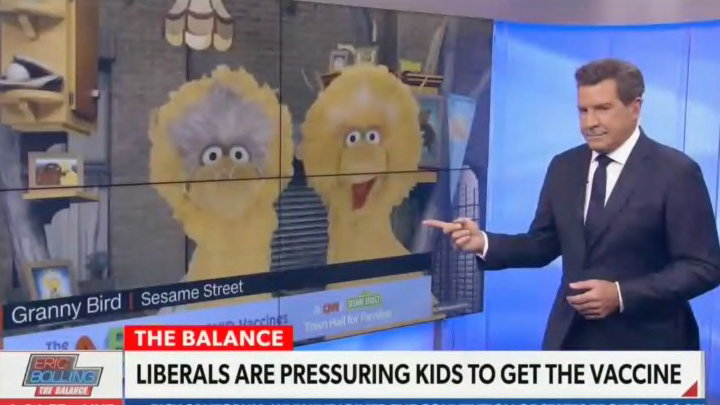 Eric Bolling /
Big Bird got vaccinated, in case you didn't hear, and it's been turned into a talking point. The entirely fictional character released a short video over the weekend as encouragement for young children to not be afraid of getting vaxxed, after the FDA recently approved vaccine shots for the five to 11 age group. A certain segment of the US population has spent days criticizing the large yellow bird and PBS for it.
Newsmax's Eric Bolling, hosting The Balance today, showed this video to viewers (while vaguely pointing at Big Bird) and demonstratively stated that it's merely proof of his view that Sesame Street "are a bunch of communists."
While it wasn't 15 years ago, Bolling is indeed on the record stating that Sesame Street is essentially a communist manifesto. In 2016, he called the program a "left wing communist diatribe" while with FOX News. It is also not the first time Bolling has been quoted as being officially against puppets made for children. In 2011, he called the Muppets communist and said it was "brainwashing" kids. This seemed to be a part of a bigger war on Bolling's part to fight for the positive perception of big businessmen, as he also singled out There Will Be Blood for portraying oil barons in a negative light.