Nebraska, Northwestern Fans Offered Free Beer After WiFi Goes Out at Aviva Stadium in Dublin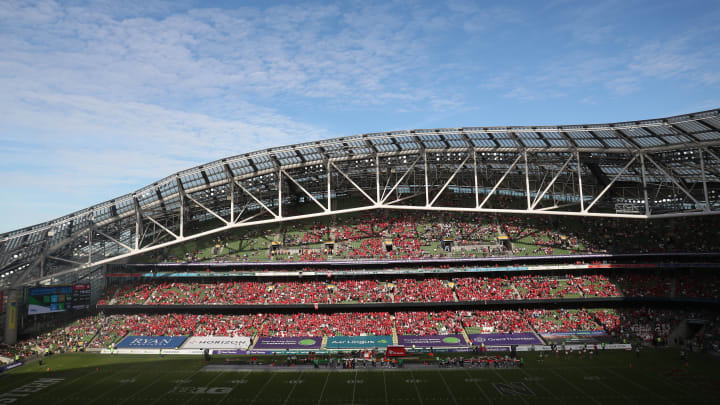 Northwestern Wildcats v Nebraska Cornhuskers - Aer Lingus College Football Classic / Oisin Keniry/GettyImages
Northwestern is taking on Nebraska today as part of college football's Week 0 kickoff. This would be largely unremarkable if they were playing in the United States. But they are not! The Wildcats are dueling the Cornhuskers in Dublin as part of the inaugural Aer Lingus College Football Classic.
Pretty sweet for the Irish CFB fans out there and even better for any Northwestern/Nebraska alumns looking to make a trip across the pond. As hard as it is to believe, matters improved significantly during the game.
At some point in the first half, the WiFi went out at Aviva Stadium. As a result, everything was free. Including beer and other alcohol. Yes, you read that correctly-- free beer at a college football game in Ireland.
As the Irish might say: absolute scenes.
It is unclear if the stadium staff felt bad about the WiFi being down and thus declared everything free or if the WiFi going down didn't allow for the vendors to accept money, leading them all to just throw their hands up and say it's free. The fans in the above video certainly do not care.
UPDATE: Nebraska beat writer Sam McKewon (sweet name, man) is in attendance and writes for Omaha.com that the WiFi going down meant the vendors could not access the credit card tills and couldn't take cash, either. So everybody there is just extremely, extremely lucky.