MSNBC's 'Morning Joe' Hosts Openly Laugh at Donald Trump's New Golf Course Plans Defense
Mmika Brzezinski and Willie Geist are not buying Donald Trump's golf course plans excuse or his daily affirmations.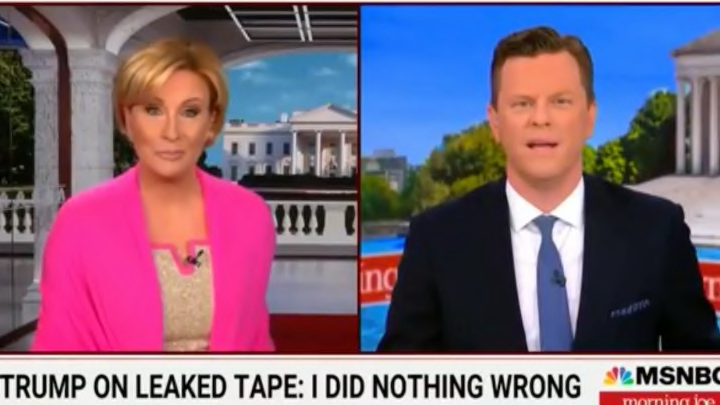 Donald Trump is fine-tuning his defense of the leaked audio recording of him discussing classified documents at Bedminster. His explanation continued to evolve on Tuesday even if his lawyers aren't keeping up. During an interview with FOX Digital he threw out a few ideas before landing on "golf course plans." Today on MSNBC's Morning Joe, host Mika Brzezinski broke out in laughter while reading his latest quotes when she got to the golf course part.
"I'm sorry. Willie, he had me at you could hear the rustle of the papers... of the Iran plans."
Willie Geist then joined the segment to have his own laugh about the golf course plans defense. Of course, that does fit with the theme that he was storing "golf gear" amongst the classified documents.
"He has such contempt for his voters. Or maybe just assumes they haven't heard the tape to suggest that what he calls explicitly on that tape from Bedminster two summers ago... a Defense Department document says — sometimes you just have to laugh at the absurdity - 'its plans for a golf course. It's plans for one of the buildings that I've been working on.'"
Geist went on to compare Trump's insistence that he's a "legitimate person" to Stuart Smalley's daily affirmations.
Considering that's a Saturday Night Live clip featuring someone notorious for spending way too much time on the golf course, it deserves to be included.