Mike Lindell's Latest Election Security Symposium Gets Off to Perfect Start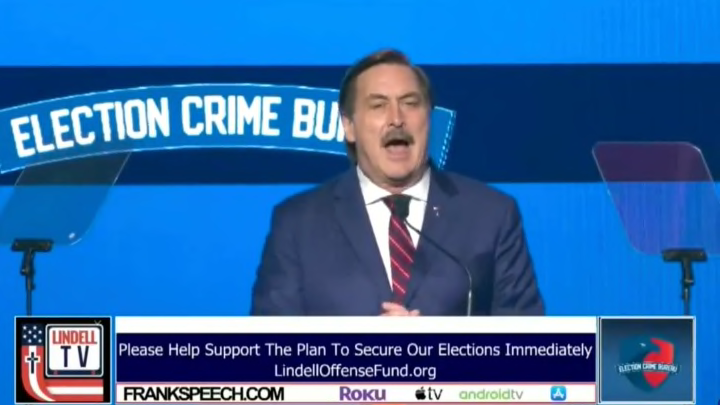 Mike Lindell is still trying to secure American elections, despite the fact that his previous attempts have not worked out so well. Nevertheless! Lindell has started something called the Election Crime Bureau which he was promoting at an Election Summit in Springfield, Illinois this week.
As you can see from the screen grab above, he's still got that Frank Speech social media site. And if you want to support the plan to secure elections, you need to go to LindellOffenseFund. And thank you for watching on Lindell TV. Which may be available on Roku and the app store. See? I told you there was a lot going on!
Anyway, here is Lindell opening up the summit by setting up a clip of something. It's unclear what that clip was supposed to be because whoever is in charge of the A/V insteads roll a clip of one of his appearances on Jimmy Kimmel Live.
"HOW WE GOT HERE" was probably supposed to be a transition slide, but for a Mike Lindell symposium it's a pretty good technical difficulties card that can be plugged in at almost any time. Let's see what happens if and when they break for lunch.