Mike Greenberg Is Never Taking Off His New Aaron Rodgers Jersey
Everyone is loving the new era in New York.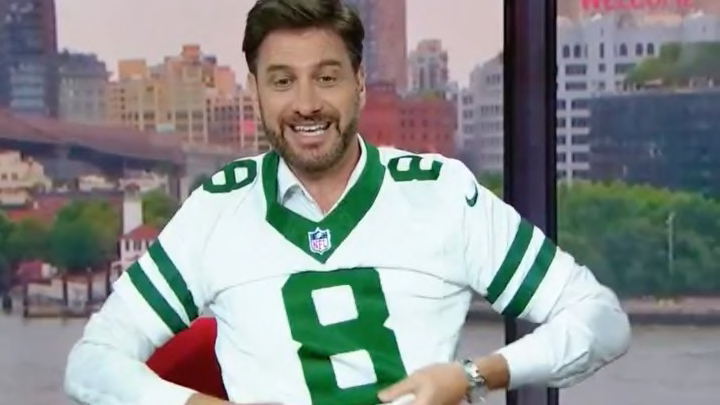 Today feels like the day NFL coverage truly began across the assorted platforms and everyone is doing their level best to hit the ground running. Get Up might be the early leader in terms of content, though, thanks to a thoughtful gift from the new Jets quarterback. Aaron Rodgers, through Kimberley Martin, took time out of his busy schedule to send over one of those fancy legacy jerseys his team will wear this year to Mike Greenberg. There is no more visible Gang Green supporter in media than Greeny and he was moved by the gesture, wasting no time to put it on over his dress shirt and largely ignoring barbs about his lack of heft.
Great perk of the job.
Now, Rodgers' fresh start is arguably the biggest storyline developing in advance of actual meaningful games and to the media's credit, no stone has gone unturned. There's tremendous optimism that things are going to be different and he's suddenly going to regain is All-Pro form. And maybe that happens. But if it doesn't, all of these segments and bold proclamations are going to be hilarious. Old Takes Exposed will have to take a few personal days to recover from the Herculaean task of cataloging them all.
It'd be a damn shame if that were to happen.