Mike Brown Earns Ejection By Cussing Out Refs After Terrible Foul Call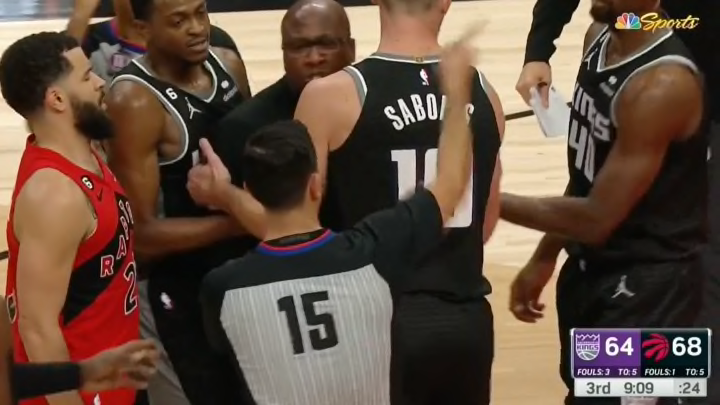 Mike Brown /
The Sacramento Kings visited Toronto to take on the Raptors on Wednesday night and dealt with typical road team adversity in the form of a favorable whistle for the home squad. One call in the third quarter sent Mike Brown into a rage and got the normally even-keeled head coach tossed merely three minutes into the second half.
If anything, though, Brown earned it. This was not a soft ejection. He cussed out the refs enthusiastically before getting thrown out. When a meltdown of this proportion happens, the coach knows exactly what he's doing.
I mean, that is a pretty bad call. Fred VanVleet nailed De'Aaron Fox with forearm shiver/pushoff before hurling himself into Terence Davis and got to shoot free throws as a result. The sort of call that calls the quality of NBA officiating at large in to question.
It is therefore understandable that Brown lost his mind and the motivational side of it worked! The Kings would go on to win and said afterwards they all wanted to do it for their coach. Brown knows the value of only losing his mind to get ejected once every now and again.