Miguel Cabrera Slid Into Second After Hitting a Home Run Because the Ball Got Lost in the Detroit Snow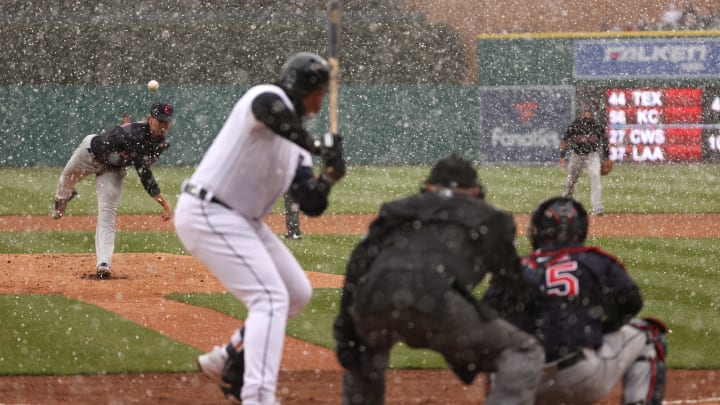 Miguel Cabrera can see baseballs in the snow. / Gregory Shamus/Getty Images
Miguel Cabrera turns 38 in a few weeks, but he can still hit a baseball over the fence every now and then. He proved as much on a snowy Opening Day in Detroit when he walked to the plate for his first at bat of the season. On a one-one pitch in the bottom of the first with a runner on first Cabrera hit the ball high and deep to right field. It's unclear if he thought the ball was over the fence or likely to be caught so he tried to watch the ball and jogged towards first. Then he rounded first and things got got really weird.
Unsure of where the ball ended up, Cabrera got on his horse and hustled to second, sliding safely into the bag only to find out that the ball had in fact gone over the fence. A player sliding into second on a home run he hit in the snow is probably not something you will ever see again. At least not this season.
Miguel Cabrera in the snow. / Gregory Shamus/Getty Images
If everything looks cooler in slow motion then that's why it's fun to watch Cabrera at full speed.